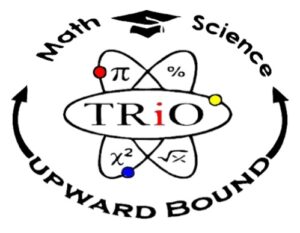 Upward Bound Math and Science (UBMS) is a TRiO program funded by the US Department of Education. It is designed to strengthen the Math and Science skills of participating students. Our goal is to help students recognize and develop their potential to excel academically, to pursue post-secondary education and ultimately, careers in STEAM-related fields.
What we offer:
Academic counseling

Tutoring services

College prep services

STEAM mentoring assistance

Career exploration in the fields of math and science

And many more!
Eligibility Requirements:
Citizen, permanent resident, or national of the United States, Guam, the Northern Marianas Islands (CNMI), FSM, Palau, or the Republic of the Marshall Island;

First generation college student, or a low-income individual;

Have a need for academic support and plan to pursue college after high school;

Must maintain, at a minimum, a 2.5 GPA;

Have completed 8

th

grade but have not finished high school (no younger than 13 years old and no older than 19)
How to join:
Stop by our office to pick up an application packet, or download the copy located below! Inside is a checklist of all required paperwork to be submitted alongside the application.
You will need:
The UBMS student application form/packet

Recommendation forms (2)

Parents Wage & Tax statement (W2)

Copy of Social Security Card (SS)

Copy of Birth Certificate OR Passport

Transcript (10

th

– 12

th

grades)

Copy of 8

th

grade report card OR elementary school transcript (9

th

GRADE ONLY)

Copy of IOWA Test scores/results

Any other supporting document!
Contact Information:
Tchuzie Tadao

Program Director

Cell #: 775-3965

Email: tchuziet@palau.edu
TE Joshua

Admin Assistant

Cell#: 775-1875

Email: telngaic@palau.edu
Kate Oiph

Science Coordinator

Cell#: 775-2850

Email: kateoiph@palau.edu
Verlene "Ime" Joseph

Math Coordinator

Cell#: 775-5635

Email: verlenejoseph@palau.edu
Carlo Olkeriil

Academic Advisor

Cell#: 775-2848

Email: carloolkeriil@palau.edu
Rosania "Orrekim" Olegeriil

Academic Advisor

Cell#: 775-3067

Email: rosania@palau.edu
Office Information

Phone #: 488-2039

Fax #: 488-2038

Email: ubms@palau.edu

Office hours: Monday – Friday from 8am to 5pm
Follow us on:
You can find the application packet, student handbook, student checklist, and brochure here: UBMS Application Packet ; UBMS Student Checklist ; UBMS Student Handbook ; UBMS Brochure